Share
It was with great sadness that we learned of the death of Lord Lester of Herne Hill QC on 8 August. Anthony Lester, who joined Blackstone Chambers (formerly 2 Hare Court) in 1963, was a greatly admired, respected and much loved member of Chambers and our thoughts and deepest condolences are with his family. Here Lord Pannick QC remembers his long-time friend and colleague.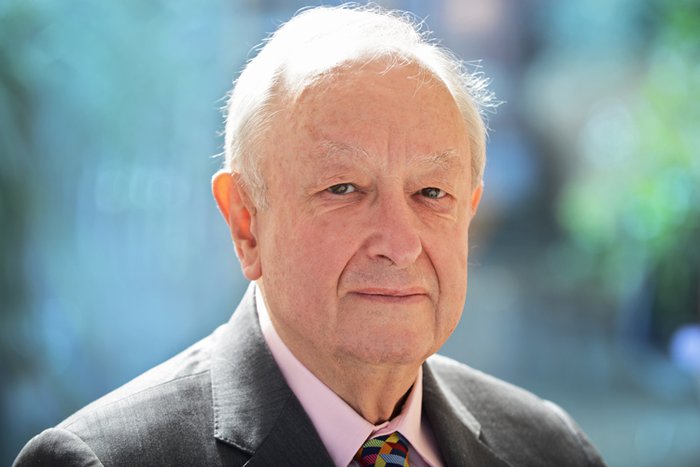 In early 1980, I arrived as a pupil at 2 Hare Court (as Blackstone Chambers then was). On my first day I met Anthony Lester QC on the stairs. "I have an interesting human rights case in the Privy Council", he said. "Would you like to do a few hours research for me?". After several weeks in the Middle Temple Library reading judgments of the US Supreme Court and the Indian Supreme Court (I rarely saw my pupil-master, Michael Beloff, during that period), I appeared as his second junior in the case of Ong Ah Chuan v Public Prosecutor challenging the constitutionality of the mandatory death sentence imposed on our client for drug trafficking in Singapore. We lost. My first client was hanged. And I was now a member of an increasingly large club: the young lawyers given valuable career opportunities by Anthony.
I had a back row seat in many of the public law cases he argued in the 1980s. He was a pioneer in relying on judgments from foreign courts and in drawing attention to the human rights implications. Our opponents would invite the judge to "resist the temptation to join Mr Lester on a Cooks tour of the legal world". The judge would smile, and ignore Anthony's points, or dismiss them as irrelevant. His determination and persistence are largely responsible for what was then esoteric becoming orthodox.
His achievements were outstanding and are well-known. Anthony successfully represented The Sunday Times in the thalidomide case in the European Court of Human Rights in 1979 to remedy our overstrict contempt of court laws, and the Spycatcher case in a dozen or so courts from 1987-1990. He acted for the claimants in the East African Asian case in the European Commission of Human Rights in 1973, one of the first British cases in that forum, and established that the Commonwealth Immigrants Act 1968, restricting rights of entry into the UK, was an act of race discrimination. He appeared in many of the leading sex discrimination and equal pay cases which advanced the interests of gender equality. In Pepper v Hart on allowing courts to look at Hansard when interpreting statutes, in the Anthony Bland case on whether the life support system could be turned off for one of the victims of the Hillsborough tragedy, and in so many other cases, Anthony Lester played a vital role in assisting courts to decide issues of political, as well as moral and social significance. He also had another career as a legislator in the House of Lords - most significantly as one of the parents of the Human Rights Act 1998 - and he also found time to establish and be active in pro bono organisations.
Anthony worked very hard at preparing a script for his submissions at hearings (my job as his junior was to try to edit it for popular judicial consumption) and he delivered it, whether or not the judge wanted to listen. He was a better advocate when he departed from it. On one occasion, I think in the Brind case about the legality of the broadcasting ban on terrorists, Lord Templeman interrupted his flow to ask to be provided with the script, as the court could save time by adjourning for 30 minutes to read it.
For a man as sensitive as Anthony was out of court, he had a remarkably thick skin in court. He and I represented one of several newspapers accused of contempt of court in 1982 for their reporting of the allegations against Michael Fagan, the intruder who had entered the Queen's bedroom in Buckingham Palace. Anthony attempted to persuade the Lord Chief Justice, Lord Lane, to refix the Divisional Court hearing because we both had to be in Strasbourg for another case on the relevant date. "Mr Lester, don't be embarrassed", said Lord Lane, "You tell me why you and Mr Pannick are the only counsel in England who could adequately represent your clients at the hearing". Anthony did, though Lord Lane was unpersuaded.
He was indeed a courageous advocate, willing to take on judicial bullies. In the Singapore death penalty case, Lord Diplock pointed out that his constitutional argument had not been advanced in the lower court and, if there was a point of public importance, it could be taken in another case. Anthony patiently explained that this would be no comfort to our client and that the legal argument should be heard before he was executed rather than at a later date. The panel retired to consider the question. Lord Diplock returned to the grandeur of the courtroom at No. 9 Downing Street to announce, through gritted teeth, that their Lordships would hear the argument. I once saw Anthony walk out of an industrial tribunal hearing in disgust at the behaviour of the Chairman.
He particularly enjoyed travelling for advocacy. On trips with him to Strasbourg, Luxembourg, and Hong Kong, I learned much about politics (he had a fund of Roy Jenkins stories, having worked as his special adviser), the deep south of the USA (where he had worked on civil rights issues after university), and nature (he liked to explain to his juniors which plants and trees they were looking at). He was not over-concerned with local legal rules abroad. He was determined to take me with him to Hong Kong for an episode of the Spycatcher saga in 1987 (Rupert Murdoch then owned the South China Morning Post and wanted to publish in that newspaper, as in others, extracts from the book) even though, as a junior, I would not be admitted by the local Bar. I spent two weeks in the hotel while Anthony argued the case. After a trip to Singapore, he made public comments back in London about the unfair treatment of his client which led to him being barred from appearing in the Singapore courts again. (The courts there still refuse to admit foreign barristers for public law cases).
He could take a good joke. In Strasbourg in 1983 at the beginning of a five day hearing of the Shipbuilding Nationalisation and the Duke of Westminster leasehold reform cases in the European Commission of Human Rights, Anthony made a submission about indirect discrimination. He used the analogy (as he often did) of a door insufficiently wide for a fat man to get through. That evening, Michael Beloff QC wrote a letter to Anthony (with the knowledge of all the other counsel) purporting to come from the President of the Commission, stating that the Icelandic Commissioner - a large man indeed - had taken offence at Anthony's submission and suggesting that Anthony might wish to apologise at the opening of the next day's proceedings. That evening, Anthony consulted all of his colleagues over the drafting and redrafting of the text of a heartfelt apology - until he was put out of his misery.  
Appearing against Anthony was a challenge. Over the course of a day or two, he would show the court all the documents and all the authorities, and make many points. I would then begin my submissions in response. Within ten minutes, Anthony would be on his feet: "It may assist Your Lordships", he would suggest, "if my learned friend would deal with" this or that point. He had an enviable ability to persuade himself that any client for whom he acted was a beacon of moral rectitude. He was very skilled at using the press to advance his client's interests. On one occasion I was representing a local education authority accused of sex discrimination against school girls for whom Anthony was acting. We settled the case on the morning of the hearing at Bromley County Court. As I arrived back in London on the train, the Evening Standard placards were already proclaiming that he had secured a victory for womankind comparable only to the introduction of female suffrage.
Anthony Lester could sometimes be unreasonably demanding of his juniors, though he was always generous in the credit he gave them after the case. He was often obstinate, indeed exasperating, in court and out. But I, and many other members of Blackstone Chambers, owe our careers to Anthony, and he enjoyed our loyalty and our deep affection. We recognised that this was a man of exceptional talents, remarkable achievements, and emotional warmth. He was unique both as a personality and a lawyer, and he will be fondly remembered and much missed by friends and colleagues.
David Pannick QC
August 2020